For any occasion
The Jopenkerk is a guest-oriented venue, ideal for the most diverse range of private or corporate events. We have a suitable venue for you, regardless of whether your event involves a corporate presentation or a festive occasion. And each venue has its own special atmosphere. We are highly flexible when it comes to arranging your event with you. See the options here.
Vicarage
The Vicarage is best suited to smaller groups. This venue is ideal for meetings (with or without lunch), brainstorming sessions, presentations, tastings or social events.
Be amazed by the whimsical, inspiring design of the former catechism hall. Here, the rich history of Haarlem as a city of brew masters is illustrated in a truly unique way.
Depending on the type of event and the planned time period, we will require venue rental or a minimum sales guarantee. You may also reserve this venue for beer tastings and master classes.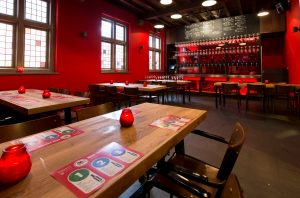 Restaurant
Our stylish restaurant is the perfect venue for private (cocktail) dinner parties, exclusive lunches or social events. The unique décor in the historic church will give your get-together an extraordinary dimension and make it an unforgettable experience.
Our restaurant is available for private hire to accommodate larger groups. The restaurant has a maximum seating capacity (lunch/dinner) of 120 persons. If you are planning a cocktail dinner party or social event, we can handle approximately 100 persons.