Tasting Divine Beer – Goede Vrijdag
vrijdag 30 maart
14:30 - 18:00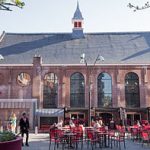 Jopenkerk Haarlem
Gedempte Voldersgracht 2 Haarlem
Bekijk op kaart
€12,50
GENIET VAN EEN TASTING DIVINE BEER, OP GOEDE VRIJDAG!
Zin in een gezellige middag borrelen? Wat dacht je van een Tasting Divine Beer? Deze proeverij heeft alles in zich om er een geslaagde middag van te maken. Tasting Divine Beer bestaat uit onder andere 3 proefglazen Jopenbier inclusief uitleg. Achter ieder vers getapt biertje schuilt een bijzonder verhaal. Verras jezelf of iedere andere bierliefhebber.
Hoe werkt het?
Kies via onderstaand menu een tijdstip en het aantal tickets.
Is jouw groep groter dan 20 personen? Bel dan om een aparte reservering te maken. 023 – 533 4114
Meld je bij binnenkomst bij een Jopen medewerker voor 'Tasting Divine Beer'.
Neem een print van je tickets mee of laat de tickets op jouw smartphone zien.
Op de dag zelf krijg je een plaats toegewezen in de Jopenkerk Haarlem. Dit kan in het grand café, het restaurant of de Pastorie zijn.
De proeverij duurt 60 minuten. Daarna is het mogelijk om op eigen gelegenheid in het grand café te borrelen.
Last but not least… geniet van de Jopen proeverij!
Aansluitend kun je natuurlijk blijven voor de borrel of een hapje eten in het grand café. Hiervoor kun je niet reserveren.
Gerelateerde evenementen
woensdag 26 december

15:00 - 18:00

€

22,50

Elke zaterdag en zondag

€

22,50